Every time I look through my pics for Insta-gratitude, I realize that I post really weird/random shiz. Anyway, here is everything I'm grateful for this week as shown through Instagram photos.
One
: Irish heritage and the chorus of angel voices that is Celtic Woman. And tea....lots of tea.
Two
: Almost edible pasta dinner that cost less than $2 dollars. Desperate college cooking for the win!
Three
: 4gLTE internet on my phone for when the home Virgin Mobile internet shits the bed(which is often).
Four:
Happy I still have my toes
even though the Pillsbury dough boy has it out for me
.
Five:
Booboo bunny for the next time the Pillsbury crescent rolls
jump out of the fridge
Six:
Buffalo bites and hard cider
Seven:
No students were injured.
Eight:
Ice cream with a fork is still better than no ice cream.
Nine:
80 oz. of
my one true love
Ranch!!!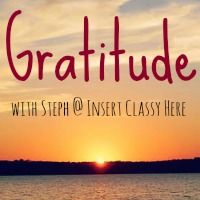 Linking up with
Steph
for Insta-Gratitude. You can follow my Instagram posts
here
.
XO - Monny