I'm grateful for some weird shiz this week. Looking back through my Instagram pics between now and last Wednesday, all I see are pics from Gettysburg(which I'm saving for their own post) and selfies. Am I
that
vain? Don't answer that - I already know.
This week, I'm thankful that everyone made my birthday extra special by celebrating with me for 4 days straight and I'm grateful that my extended family has never failed to make my friends feel like they're part of the family.
I'm grateful that I finally got my new contacts so I don't have to look like a hipster for the rest of the summer. And so I can wear my sunnies!!!
Lastly I'm thankful that I live in a state with so much history, no matter where I go. Ten minutes from home and I'm in the birth place of our nation. If we drive another 2 and a half hours, we're on the fields of the largest battle ever fought in North America. I don't know about you, but I think that's the bomb-diggs.(The fact that Morgan Freeman narrated the intro video to Gettysburg just made everything more epic.) I'm also grateful that they still have good beer in the middle of nowhere.
I'm also thankful that old fashioned candy stores carry everything from my childhood and sell it for super cheap. Yay for Pez and PopRocks!
Linking up with
Steph
!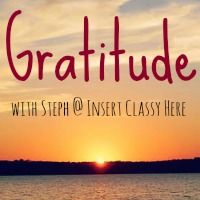 "Let us be grateful to the people who make us happy; they are the charming gardeners who make our souls blossom." --Marcel Proust
XO - Monny