Happy FRIDAY (Friday, gotta get down on Friday) Blogland!
I've gone at least 2 weeks without linking up with Steph for Gratitude, so I'm smushing it all into this one post. Don't worry, I didn't stop being grateful for things, I just got lazy.
There are so many things to be grateful for.
ONE: Spontaneous dinner and drinks at the Irish Pub with the boyfriend.
TWO: Finally having a minute to start a book I've had for almost a year. One chapter in and it's just as good as I expected.
THREE: Pumpkin coffee season!
FOUR: Bewley's breakfast tea to wake me up (straight from
Ireland
Wegman's).
FIVE: Starting the search for grad schools.
SIX: Last minute road trips with Peggy and Dad!
SEVEN: Finally having a picture of Me and Kim after being friends for 2 and a half years.
EIGHT: and discovering different gardens every Monday at Temple Ambler with Kim.
NINE: Finding inspiration in the most unlikely places.
Last, but not least, I'm thankful that there are
throwbacks
songs like this to start off my weekend.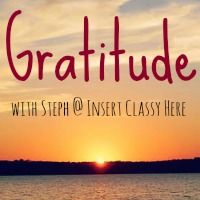 XO - Monny