Happy Friday!
I love that it's Friday, but I just can't seem to get my shiz together. Like how I'm wearing one Gryffindor sock and one purple leopard print sock. And had to reheat my tea water...twice. I'm also finishing my gratitude post FROM WEDNESDAY. Jeez Monica. Here we go.
I'm grateful for warm sweaters when it's freezing (see also: a rainy 60 degrees) outside.I'm grateful that I'm only working 3-8 tonight so I CAN DO STUFF.I'm also grateful that my midterm math grade is an A. This has never happened before. I'm navigating uncharted territory.
Now onto the
photographical
Instagram portion of this post.
ONE:
I'm grateful for manicures that stand the test of manual labor. If you ever get the chance, use Healthy Hoof high-gloss protectant. Yes, it's for horses. Yes, I put it on my fingers. Yes, it's a miracle worker.
TWO:
I'm grateful that I got to spend 17 years of my life knowing this woman. My godmother had the biggest heart out of anyone I've ever known. She would help anyone in need and she taught me the meaning of the word "laughter." I miss her every day, but I'm grateful that she instilled all her kindness and love in her kids who are the best friends I could ever ask for.
THREE:
I'm grateful that I can cook a damn good meal without
burning the house down
working too hard.
FOUR:
I'm grateful for rainy days that I can watch from the inside.
FIVE:
I'm grateful for Fall, even though I hate the cold.
SIX:
I'm grateful that my boyfriend attempted to smile when I shoved a camera in his face.
SEVEN:
...and that he's accomplishing everything that he wants to before graduating.
EIGHT:
I'm grateful that I got my assignment done without stressing too much and that I got to bed at a reasonable time on Wednesday night.
What are you grateful this week?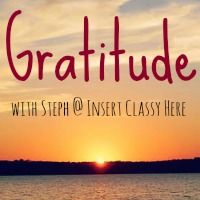 XO - Monny