Oh happy day!
It's almost the weekend. Annnd I actually have plans (I know, even I can't believe it). Tonight I'm going to happy hour with my cousin after work and then tomorrow I'm going out with Amy and Courtney and our boyfriends to celebrate Amy passing her boards for her CT program YAY.
Today I'm linking up with
The Good Life
,
A. Liz Adventures
,

Carolina Charm

,

and

Hello Happiness
for Five on Friday. So let's get down to business
to defeat the huns
.
ONE // I ordered this months tshirt from Whitney at IWYP. If you've been living under a rock for the last 3 months or don't know what #IWYP is, you can google it or click
here
.
I've heard soo many good things about these shirts, so I can't wait to get it in the mail and feel how soft it is! Also check out Whitney's post from Wednesday about Envy vs Jealousy because it's perfect.
TWO // I'm ordering tickets for Jason Aldean with Florida Georgia Line and Tyler Farr for August!
THREE // This week, Amber at Mr. Thomas and Me started a #sayyesproject photo challenge for her birthday and
I've actually been posting
!
FOUR // I got my Proactive + in the mail on Tuesday and it's really doing wonders for my skin...except for this.
Well I love my new Proactive + and all, but it's BURNING as I work out. I feel like a billion fire ants are tap dancing on my face.
FIVE // I'm wearing magenta pants at work today.
Have a great weekend everyone!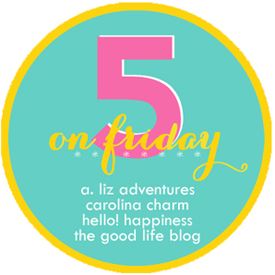 Annnnd linking up with Whit for Backthatazzup Friday.
Nelly and Florida Georgia Line because my dad was grooving to this in the car
yesterday morning and I'm still laughing about it.